Fall 2010 Metropolitan Council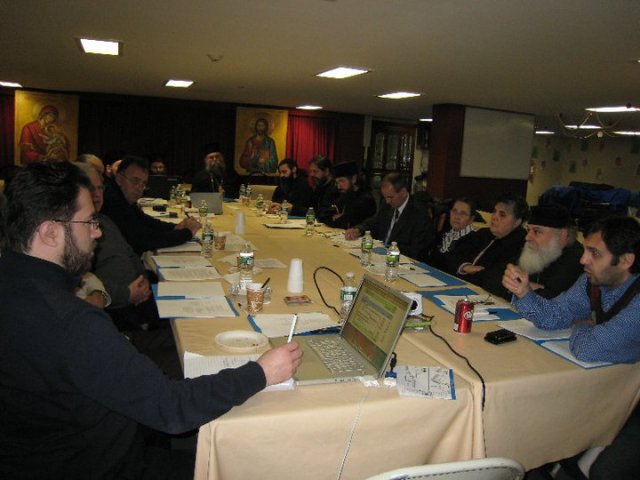 A complete photo gallery is available here courtesy of hotca.org.
On Saturday, November 28/December 11, 2010, the Metropolitan Council of the Holy Metropolis met to discuss its ongoing work. Proposals were heard for a clergy health savings plan, a discretionary assistance fund, and a religious education fund to be created. The Uniform Parish Bylaws and the Special Regulation of the Metropolitan Council were reviewed and revised. A proposal to invite His Beatitude Archbishop Kallinikos of Athens and All Greece to America was approved.
His Eminence Metropolitan Pavlos and His Grace Bishop Photios of Marathon (a member of the Eparchial Synod of the Holy Metropolis) co-presided. By the invitation of Metropolitan Pavlos, His Eminence Metropolitan Moses of Portland (HOCNA) was invited to observe the meetings, as he was already in New York visiting the bishops to discuss issues of mutual concern and pan-Orthodox cooperation.
No Metropolitan Council meeting will be planned for the Spring, in order to ensure that parishes have the resources to support the Archbishop's proposed visit. The next Metropolitan Council meeting will be held in the Fall of 2011.
A beautiful liturgy was served on Sunday, November 29 (o.s.) by His Eminence Metropolitan Pavlos and His Grace Bishop Photios, with Archimandrite Epiphanios, Protopresbyter Emmanuel Colombos, Protopresbyter Theodore Giannakopoulos, Hieromonk Maximus Analepsiotis, Presbyter Anastasios Hudson, and Presbyter Nicholas Serigos concelebrating. Archimandrite Niphon and Presbyter.Michael Hallford also assisted in the altar.
We thank all the delegates who made the trip to New York to participate, and the Cathedral for hosting the meeting. These meetings, while primarily concerned with financial matters, are instrumental in maintaining a sense of fraternity and cooperation amongst our parishes.