A New TOC Website… From Serbia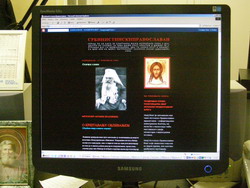 (catacomb.org.ua) A new TOC website is available on the Internet– from Serbia.
The Serbian True Orthodox Church, under the omophor of Abp Chrystostomos of Athens and enjoying pleasant relations with the RTOC under Abp Tikhon of Omsk, has created a "web-bulletin" to cover news and events in Serbia. The site is edited by Hieromonk Acacius and can be found at www.serbiantrueorthodox.blogspot.com.