Book Review: Stalin's Cannibals
(source: slate.com) …I had been all too vaguely aware of the role the Stalin-imposed Ukraine famine played in the argument—according to many calculations, it added more than 3 million dead to the sum of Stalin's victims.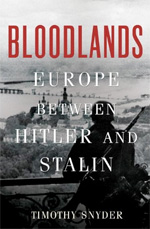 But I suppose that, without looking deeply into it, I had considered Stalin's state-created famine a kind of "soft genocide" compared with the industrialized mass murder of Hitler's death camps or even with the millions of victims of Stalin's own purges of the late '30s and the gulags they gave birth to.
Snyder's book, while controversial in some respects, forces us to face the facts about the famine, and the cannibalism helps place the Ukraine famine in the forefront of debate, not as some mere agricultural misfortune, but as one of the 20th century's deliberate mass murders. 
Students of comparative evil often point out that Stalin caused a higher death toll than Hitler, even without taking the famine deaths into account; those losses were not treated the same way as his other crimes or as Hitler's killing and gassing in death camps. Shooting or gassing is more direct and immediate than starving a whole nation. 
But Snyder's account of the Ukraine famine persuasively makes the case that Stalin in effect turned the entire Ukraine into a death camp and, rather than gassing its people, decreed death by famine.