RTOC: Paschal Epistle 2009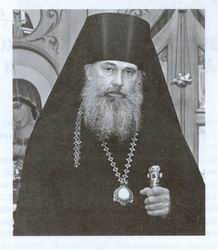 Hat tip to White Russian for the superior translation.
Note: We are collecting and publishing all the encyclicals of various first-hierarchs for Pascha. We will be including them under the subheading "Paschal Epistles 2009". As they come in from various sources we are putting them up. NFTU
EASTER MESSAGE
+Tikhon, Chairman of the Bishops' Synod RIPTS
Archbishop of Omsk and Siberia
"That My joy will be in you,
and your joy will be full."
John 15:11
Dear brothers in the Lord, archpastors, pastors, brothers and sisters,
Christ is Risen!
With thanksgiving to the merciful God, we again meet the bright holiday of the Easter Christ. Today, the entire world created by the Lord exults: the heaven and the earth, the air and the sun rejoice about their Creator, because today the universe receives assurance of its immortality. The Resurrection of our Lord Jesus Christ speaks to us of eternal life, and testifies to our immortality and of endless joy and love.
Our joy today cannot be compared with any other. Regardless of what a person might rejoice over in his life, he will never experience such clean, childishly open, all-embracing merriment as overflows his heart on Easter night. This joy is a foretaste and promise of another, heavenly joy, an echo of divine, pure, holy feeling.
"Always Rejoice", the Lord has commanded us. He, like a loving Father, would always like to see us merry, cheerful, in a kind frame of mind, for what father would not wish to see his own child exactly so? It is all the more so because our Father is Heavenly. Therefore, we need to preserve today's mood as long as possible – for the whole year until next Easter.
A joyful person will not start to sin against those close to him, offending them or leaving them without needed attention; won't become despondent and lose heart in a complicated situation, but with faith in God will look for a way out from any position; won't start to lie or envy, or to commit some other filthy deed, because it would muddy and dispel his clean pure joy. A joyful person is always energetic, because his strengths—are from God. Carrying in his heart Easter joy, it is as though he is made unapproachable by sin, if only the person would work at guarding this feeling. By contrast, despondency cannot give a person either energy or the desire to help others, or a comforting feeling of gratitude to the Creator.
But how can we constantly rejoice – you ask, – if life is full of sorrows and deprivations, if in life there occur such terrible betrayals and losses, after which one not only does not rejoice, but generally does not even want to live? Yes, and with these thoughts the devil confuses our souls. Let's remember that Christ, having left us joy and gratitude, having said that, prepared himself for an agonizing death, prepared himself to live through the meanest treachery of his close disciple (student) and to take onto himself terrible tortures and a slow death on the Cross. He, having spoken of joy, with His Godly omniscience (all seeing-ness) knew of the sins of the whole world, saw all of the evildoing in the universe . . . But at the Last Supper (Secret Evening), when He had left only a few hours until his suffering, He Himself comforted His disciples, calling on them not to mourn, and speaking to them not of the horrors of the coming tortures, but of love, of the Comforter, Whom He would send, and of heavenly dwelling places. Having already released Judas to perpetrate his dark act and awaiting the approach of his footsteps, Christ spoke to the apostles of His great joy and desired to pour it into the hearts of his disciples.
"My joy will be in you, and your joy will be made full", – He said then.
The Lord taught about love to all, of enduring joy and thanksgiving for everything, because only by this means is it possible to defeat the evil encircling the world. The greatest despondency in the universe– that is the despair of the fallen angels, the despair of hopelessness. Therefore, let's not be caught by them, let's not share with them this feeling, but let's stand against them with a cheerful spirit, always in a good mood, keeping in our hearts faith in salvation and the exultation of the Easter night. Even the thought of the coming Terrible Judgment (Last Judgment) should not be for us a reason for sadness and despondency. The first Christians, as writes Metropolitan Anthony (Khrapovitsky) "with radiant joy awaited the Second Coming and answered to the words of the Lord, 'Really, I am coming soon' – 'Truly, come, Jesus Christ!' because their certainty in divine mercy and in the ultimate victory of Christ over the world was so strong, that it was as if they could not tear their eyes away from the contemplation of His future victory and therefore imagined this same future as something light and joyful.
Why are we so often sad and despondent? Why does Easter joy so soon leave our hearts, and we not only are unable to thank the Lord for all, but we can't even avoid grumbling against Him? Why do thoughts of our own sins at times even after confession do not leave us, and our sins, it seems, pull us to the bottom—to the greatest despair of hopelessness? . . . Why do we not infrequently turn Christianity from a religion of joy and love into a cult of gloomy seriousness and depression? Metropolitan Anthony, analyzing dejection, answers in this way these questions: " It is not humble wisdom which is the cause for that, but some dismal alienation of our heart and our whole life from Merciful Christ and His Providence." We need to know how to always carry the Lord in our hearts, not tearing our inner gaze from Him, and then the joy of Christ's Resurrection, like an inextinguishable lamp (icon candle light), will always burn in our hearts, not permitting us to immerse ourselves in the dark gloom of despair and despondency.
On this Easter night we do not always realize the inner reason for such boundless exultation of the spirit. But the Merciful Lord, gifting us with the joy of the Holy Night, teaches us thereby—even if unconsciously– the true state of Christian souls, shows us how great must our hope be of salvation, how strong our faith in His infinite mercy, how childishly pure must our joy in Christ's Resurrection and our future resurrection be.
Let it be care to preserve the Easter joyful spiritual condition that is our unceasing doing, as are prayers; let never be extinguished in our hearts the lamp of hope in salvation, let never the enemy catch us with his despondency, but with a strong faith and the most sincere joy, emanating from our hearts, let us answer to the Easter call (Christ is Risen!):
Truly Christ is Risen!
+ Archbishop Tikhon
Christ's Easter 2009