RTOC: Passing of Catacomb-Nun Amvrosy (4/26/09)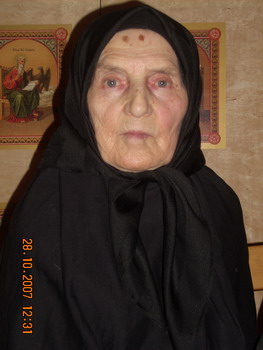 We here at NFTU put up the notice of the passing of the Catacomb nun Amvrosy of Kharkov, spiritual daughter of the Catacomb hieroconfessor Nikita (Lekhal, +1985). It is a reminder to those in the official Church that voices could be heard for Orthodoxy throughout the Soviet period, and they were known to those in the ROCOR who stood by the Catacomb Church, but those were not the voices of the Moscow Patriarchate. Shame to those who say that the Catacomb Church was silenced, and shame to those who say that the voice of the free Church was no longer heard in Russia after the 40's. For what did these confessors struggle, if not to preserve the purity of Orthodoxy we are now so willing to throw away? Here we shall collect some details presented of her life. NFTU
Born Galyna Dmitrievna Polychaninova on February 12, 1920 in Kharkov to pious Orthodox parents Dmitri and Maria. Nun Amvrosy's father died at the front, and his mother later became a novice and reposed in 1966.
For nearly 30 years, she in the world and her husband were assistants to the recently glorified Catacomb shepherd, Father (now glorified) Nikita Lekhal in the Kharkov.
After her husband's death Galyna Dmitrievna took monastic vows with the name Amvrosy, in honor of St Amvrosy of Optina.
Father Nikita blessed her with the following words: "You will not receive a pension, but the Lord will feed you so that you have and others will feed". So it was up to her righteous passing.
The house of Mother Amvrosy was always a spiritual center for catacomb Christians. From all over the country with different letters were requested. Each of them met Mother in time, who slowly eased the souls of her beloved sisters and brothers in Christ. She always prayed for all, especially for the ailing or were in difficult circumstances, and never missed an opportunity to give alms in secret for Christ.
The catacomb community of Kharkov promised to keep her memory and to maintain that spirit that she carried with her.
Eternal Rest, O Lord, grant to Your handmaiden!