OCA: Metropolitan Jonah's Resignation Official Text and Reaction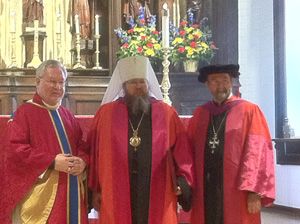 Jonah in happier days with Anglican friends at
Nashotah House (photo source: oca.org)
Chaos reigns in the World Orthodox blogosphere as responses to the resignation of Metropolitan Jonah of the OCA have varied sharply among World Orthodoxy, some calling for the dissolution of the OCA, and some believing this was part of a conspiracy between the ROCOR-MP and the Moscow Patriarchate hierarchy to be rid of the OCA once and for all.  Some held that Metr Jonah was a good man and a victim of corruption. Some people believe this is part of a conspiracy to further consolidate his power and that he wasn't the author of the resignation. As of today, SNAP, a clergy-abuse victims group, released a statement arguing Jonah did nothing about the abuse cases regarding Seraphim (Storheim) until after his arrest. Almost taken for granted is the assessment originally driven by sites like ocanews.org that Jonah came in during a period when massive mismanagement of funds were discovered and that little has changed since. His post appears to have been temporarily assigned to Abp Nathaniel (Popp). For a group that has just replaced its leader, you'd barely know from the OCA front page.
In any case, the original text of his resignation follows.
To the Holy Synod of the Orthodox Church in America,


Brothers,


As per your unanimous request, as conveyed to me by Chancellor Fr. John Jillions, I hereby tender my resignation as Primate of the Orthodox Church in America, and humbly request another Episcopal assignment.


I had come to the realization long ago that that I have neither the personality nor the temperament for the position of Primate, a position I never sought nor desired.


It is my hope that due consideration will be made for my financial situation, both in any interim and in consideration for any future position. I am the main financial support for both my parents and my sister, beyond my own needs.


I will appreciate your consideration in this, and beg forgiveness for however I have offended you, and for whatever difficulties have arisen from my own inadequacies and mistakes in judgment.


Asking your Prayers, I Remain yours faithfully, 
Metropolitan Jonah, Archbishop of Washington
---
Discuss this Post in our Forum or Comment Below.