ROCOR-A: North American Clergy Conference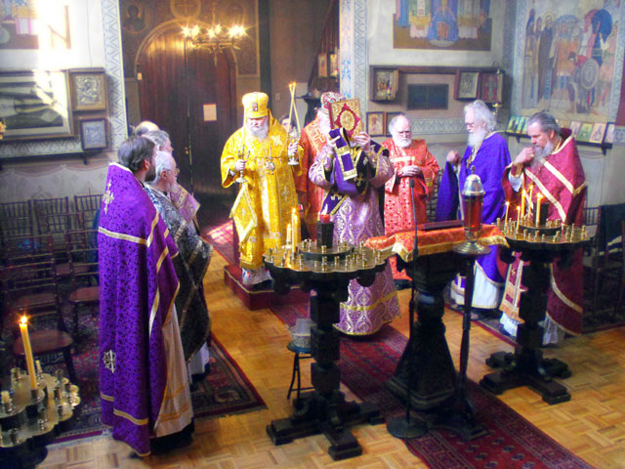 (NFTU: multiple sources) And some good news for the week: A clergy conference (Govenie) was held in St Sergius of Radonezh Church in Spring Valley, NY, between March 25-27. Both Archbishop Andronik of Ottawa and Bishop Joseph of Washington were present along with local priests.
According to a communique from Fr Andrew Kencis of Ontario:
On the 26th-27th of March 2009, Archbishop Andronik of Ottawa and North America and Bishop Joseph of Washington held a "Govenia" (a spiritual retreat) for the North American Clergy in the Church of St. Sergius of Radonezh in Spring Valley, New York. In total, including the Bishops, eleven clergy were present. They traveled from all regions of North America. The meeting was small and intimate, giving the clergy a chance to pray quietly, receive confession, and serve with some of their brother clergy without the usual pressures of normal parish situations.
The full cycle of Lenten services was served, with the Bishops spending much of their time in the Cliros chanting the evening service. Early the next morning, the Lenten Hours were chanted and after the veneration and the bringing in of the Precious Cross to the Altar, the Pre-sanctified Liturgy was served. The mood of the services was one of a quiet joy, a strong feeling of a family praying together to their Lord.
Afterwards, a brief casual discussion of some matters that concerned the general life of the Diocese were considered:
The organization of a Church conference for the laity to be held this year, (to be announced)
The support, promotion and providing of materials for publication of the magazine "Living Orthodoxy"
New Missionary endeavors that will be undertaken by Archbishop Andronik.
A general reminder to the clergy to take the time to explain our faith, especially to new people, including even the simple things done during services that make up the richness of Orthodox Worship. This will help them realize that these actions aid them to find that quiet place in their heart, the place where the Lord dwells within us. The past years have distracted us somewhat from this "one thing needful" and it is time to reapply ourselves to this goal as Orthodox Christians.
Even though the meeting was short, considering the entire time spent together, it has proven to be invaluable for the clergy just to be together, pray, confess and take part in general fellowship. We felt grateful to the Bishops for providing us with this truly healing and renewing time. We all departed to our homes and our parishes with new vigor and a renewed commitment.