Bp Photios of Marathon on Pastoral Visit to True Orthodox of Serbia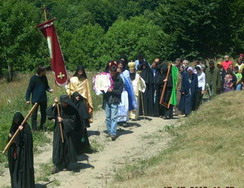 (catacomb.org.ua) According to the Serbian publication The True Orthodox Church Register, on 24 June / July 7, 2008 Bishop Photios of Marathon (GOC- Chrysostomos) celebrated liturgy at the Holy Nativity of St John the Baptist Church and Convent in New Stenike of the Serbian True-Orthodox Church.
The Serbian True Orthodox Church formed in 1995, under the direction of Serbian-Athonite monks led by Schemamonk Akakios, and went under the jurisdiction of Abp Chrysostomos (Kiousis) of Athens. Over the past year, there has been a certain level of discussion over the possible creation of a Bishop for Serbia in communion with the jurisdiction.