TOC-Bulgaria (Metr. Gervasii) Accepts Bishop for Brazil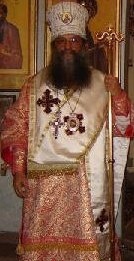 According to a letter sent to Metropolitan Anghelos of Avlonos, Metropolitan Gervasii of Sofia confirmed the reception of Bishop Kirill of Ceara and Brazil. (It is unclear whether Bishop Kirill has retained the title of Archbishop. The letter does not indicate the mode of reception, nor whether the diocese extends to the rest of Latin America. We will report more on this reception as information becomes available.
To His Beatitude
+ANGELOS- Metropolitan of Avlona and Viotia and all Sister Chirches
Your Beatitude,
The Holy Synod of Bulgarian Eastern Orthodox Church аt its meeting on 05/19 May 2011, considered the request of Bishop Kyrill of Brazil, and decided to accept him as a full member of the Holy Synod of the Bulgarian Eastern Orthodox Church. Bishop Кyrill send all necessary documents for its canonical continuity. Holy Synod of the Bulgarian Eastern Orthodox Church named him as Cyril, Archbishop of Ceara and Administrator of Brazil. By God's grace, we believe that with this act, we will strengthen our ministry and glorify the Holy Orthodoxy.
G E R V A S I I – Metropolitan of Sofia and all Bulgaria